---
Top 10 Indian Government Schemes list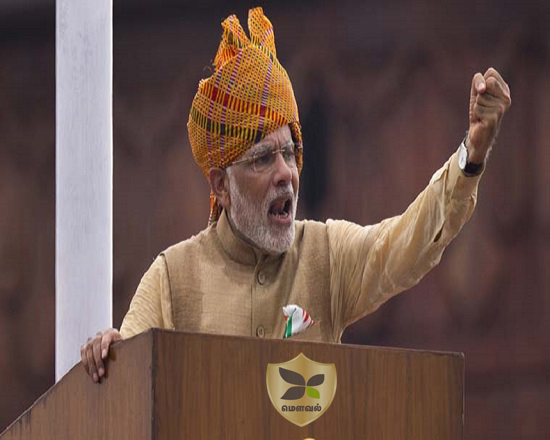 We have seen drastic improvement in India across all the sectors starting from Agriculture to Information technology because of honorable Prime Minister Narendra Modi's amazing initiatives to the people and for India like # Make in India, # Stand Up India, # Digital India. Even though there are many schemes or valuable initiatives are there to list here ,We listed only top 10 initiatives.
10Farmer welfare and Agriculture Growth
We know farmers are India's backbone.To boost their lives so many schemes or programs been conducted across India. 1)Kisan TV DD Kisan is an Indian agriculture 24-hour television channel, which is owned by Doordarshan and was launched on 26 May 2015. 2)Soil health card Soil Health Card Scheme is a scheme launched by the Government of India in February 2015.Under the scheme, the government plans to issue soil cards to farmers which will carry crop-wise recommendations of nutrients and fertilizers required for the individual farms to help farmers to improve productivity through judicious use of inputs. All soil samples are to be tested in various soil testing labs across the country. Thereafter the experts will analyze the strength and weaknesses (micro-nutrients deficiency) of the soil and suggest measures to deal with it. The result and suggestion will be displayed in the cards. The government plans to issue the cards to 14 crore farmers 3)Paramparagat krishi Yojana Paramparagat Krishi Vikas Yojana (Traditional Farming Improvement Programme) has been launched by Government of India to support and promote organic farming and thereby improving soil health. This will encourage farmers to adopt eco-friendly concept of cultivation and reduce their dependence on fertilizers and agricultural chemicals to improve yields.
9Pradhan Mantri Jan Dhan Yojana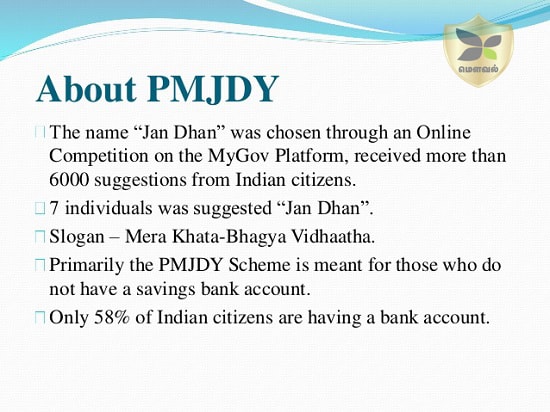 Pradhan Mantri Jan-Dhan Yojana (IPA: Pradhān Mantrī Jana Dhan Yōjanā) (PMJDY) is National Mission for Financial Inclusion to ensure access to financial services, namely Banking Savings & Deposit Accounts, Remittance, Credit, Insurance, Pension in an affordable manner. This financial inclusion campaign was launched by the Prime Minister Narendra Modi on 28 August 2014.He had announced this scheme on his first Independence Day speech on 15 August 2014. Run by Department of Financial Services, Ministry of Finance, on the inauguration day, 1.5 Crore (15 million) bank accounts were opened under this scheme. Guinness World Records Recognizes the Achievements made under PMJDY, Guinness World Records Certificate says "The most bank accounts opened in 1 week as a part of financial inclusion campaign is 18,096,130 and was achieved by Banks in India from 23 to 29 August 2014". By 10 February 2016, over 20 crore (200 million) bank accounts were opened and ₹323.78 billion (US$4.8 billion) were deposited under the scheme.
8Sukanya Samriddhi Yojana
Sukanya Samriddhi Account Yojana offers a small deposit investment for the girl children as an initiative under 'Beti Bachao Beti Padhao' campaign. One of the key benefits of the scheme is that it is quite affordable and offers one of the highest rates of interest i.e. 8.6 %. You can also enroll your child in this scheme before she attain the age of 10 in any post office in India. For more details on this scheme Please visit: http://www.sukanyasamriddhiaccountyojana.in/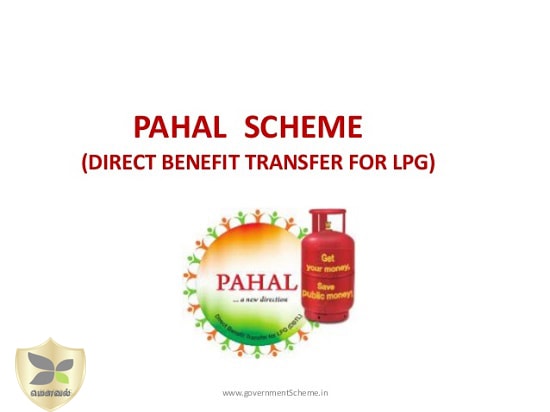 When we hear the word "PAHAL" our mind will think off LPG subsidy .Yes, it's beneficial for people in following ways as well. 1) They get their LPG at lower rate and government fixed rate. 2) Easy booking 3) Stops unauthorized dealers to sell LPG at higher rate After Modi's LPG subsidy give it up campaign , 65 lakh people voluntarily give it up subsidy and it made 50 lakh LPG connections to BPL (Below poverty line) families. Yearly who earns below 27,000 will come into BPL list.
6Electrifying villages those don't have electricity
Even though technologies grow faster in many cities of India still have villages that don't have electricity.To resolve this problem "Deen Dayal Upadhyaya Gram Jyoti Yojna" Introduced by Modi. Till date 7008 villages electrified.This is not just Great .
5Building Roads, Building India.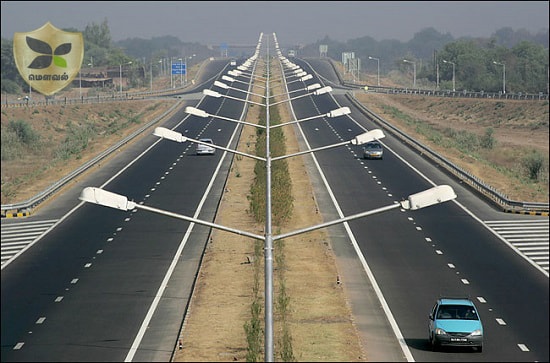 In the year of 2015-2016 Indian government under Modi governance built 6029 Km of highways constructed .And it is notably great achievement.
4India is world's top FDI destination
"More FDI, More Growth, More Jobs "

Before knowing why India is world's top FDI destination, we must know what is FDI right? A foreign direct investment (FDI) is an investment made by a company or entity based in one country, into a company or entity based in another country. After "Make in India" program launched by PM there are lot of foreign company showed their interest by investing $63 billion because of this India become world's number one FDI destination by pushing china to the second place.
3NAVIC (Navigation with Indian constellation)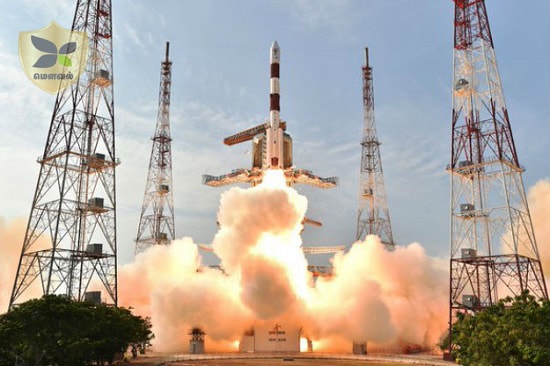 India launched its very own navigation system called "Indian Regional Navigation Satellite System" (IRNSS) successfully with the help of ISRO thru PSLV like GPS (Global positioning system) operated by USA with 24 satellites April 2016. With this launch, India becoming one of five countries with own navigation system. This navigation system can cover 1,500 km area from Indian countries so that neighbor countries can make use of it. Mainly, this is very much helpful for fishermen and mariners for navigation.
2Gatiman Express – Adding pace to progress
This is the India's fastest train with 160 km/h launched on April, 2015 with plenty of valuable services added. The train will take a travel time of 100 minutes to cover 188 kilometres (117 mi) journey from Delhi (Hazrat Nizamuddin) to Agra Cantonment railway stations. The train is equipped with bio-toilets, fire alarms, GPS-based passenger information system and automatic sliding doors. Unlike other trains, this train has service staff's like airplane for any queries you can reach out them. What is Bio toilet? A composting toilet is a type of dry toilet that uses a predominantly aerobic processing system to treat human excreta, by composting or managed aerobic decomposition. These toilets generally use little to no water and may be used as an alternative to flush toilets.
1Street lightening National Program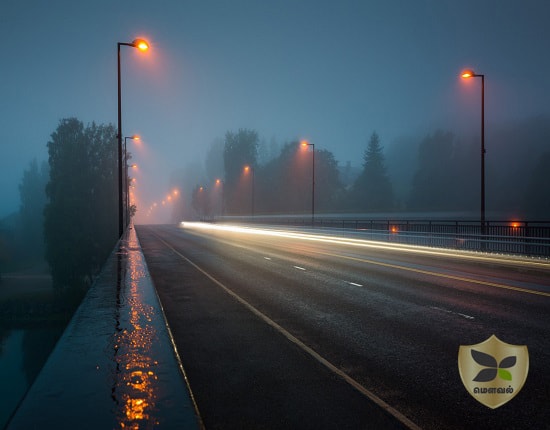 This is program is to replace all the conventional street (Incandescent or fluorescent) lights in India to LED ones. This program have been launched by honorable Prime Minister Modi in January 2015. You may think, why it is so important where so many issues persists in India? Let us explain why it is. Reportedly, India has totally 35 million street lights which consumes more 3,400 MW power. When we switch to LED, can bring the count down to 1400 MW where we can save up to $850 million. Instead of spending more money to generate more power is very expensive when compared to conserving the power by switching to LED bulbs. This is project is expected to complete by 2019 but full paced work is in progress. Out of 3.5 crore street lights 6.63 lakh lights are already been replaced across Andhra Pradesh, Rajasthan, Delhi and So on. When this project completes, India will save 5500 crore annually. Forget to add one more point here, currently those conventional bulbs produces or pollutes environment by emitting 8.5 crore tones of CO2 per year where LED pollutes nothing.